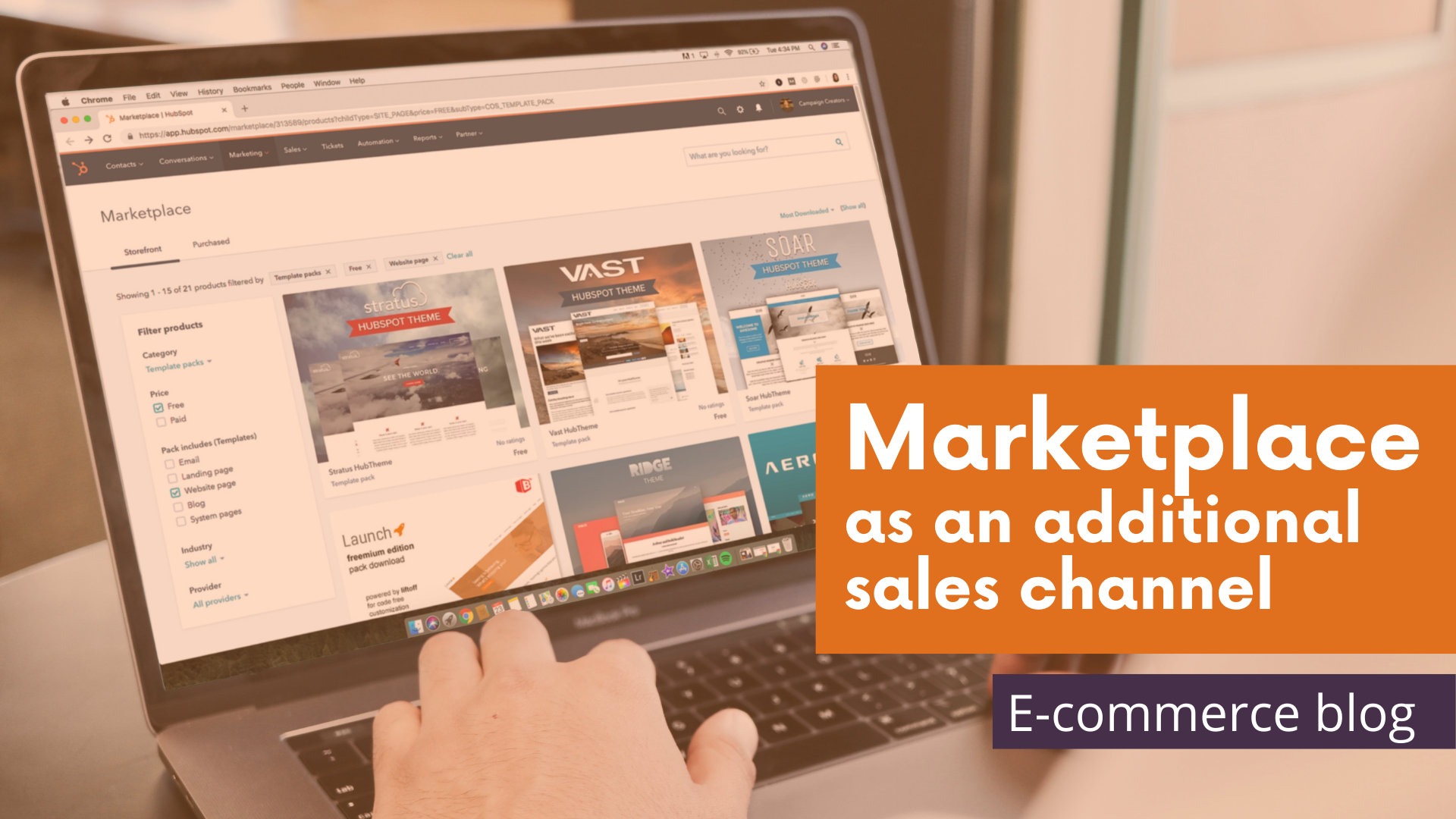 Marketplace as an additional online sales channel
When selling online, we want to reach as many customers as possible. Marketplaces are one of the ways to do that. This article describes their potential, the benefits of marketplace presence as well as information useful for launching sales through this channel.
Marketplaces are sites that aggregate multiple sellers from different industries and provide buyers with a large database of products in one place. They are like an online version of a physical marketplace where each stall is a subpage with a particular seller's products.
These sites are very often the place where sellers start selling online. They are characterised by a low entry threshold, an already developed customer base, and a well-established market presence. They offer multiple facilities for sellers and buyers alike, plus most customers view them as a safe way to shop online.
In addition, marketplaces provide existing online shops with an opportunity to increase sales and test the international sales potential without much investment.
Global marketplace potential
The popularity of marketplaces grows annually, and the most popular ones reached 1.66 trillion dollars in sales in 2018 alone (digitalcommerce360.com). In the U.S. and Europe, as many as 96% e-customers shop at marketplaces, while in Asia it's 2% more.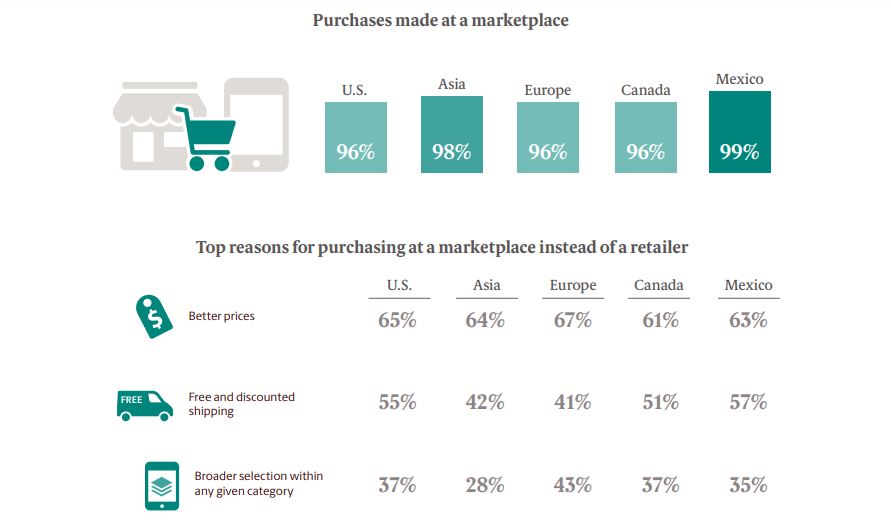 Photo: UPS Pulse of the Online Shopper™ Study, a report on the popularity of shopping on marketplaces
According to the 2018 Online Marketplaces report, Amazon is the first site that 54% of U.S. consumers visit when shopping online. In 2018, its share of the U.S. e-commerce market reached 49%, i.e. 5% of all retail sales in that country. Moreover, as many as 9 out of 10 consumers check prices on Amazon before purchases, which is a really good result given the number of products sold on that site (more than 12 million).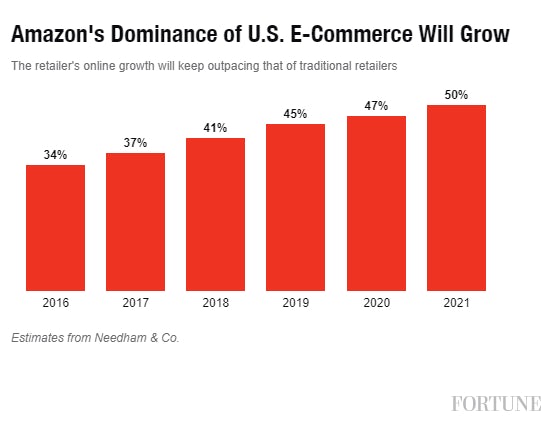 In Poland, the most popular marketplaces are Allegro, Amazon, AliExpress, and eBay. The first one limits sales to the Polish market alone, while the other three reach customers across the world, where the leaders are Taobao and TMall, owned by the Chinese giant Alibaba.
These marketplaces have an almost identical sales model, differing mainly in how much they charge sellers and what features they offer. Their most interesting sales support tools include:
Allegro's option to save auction templates and send automatic notifications to customers,
Amazon's FBA (Fulfilment by Amazon) service offering storage and shipping of goods,
Amazon's system for translating product names and descriptions,
paid promotion of marketplace listings,
eBay's extensive analytical tools for creating sales reports,
eBay's Listing Analytics allowing users to check the effectiveness of their listings by keywords or item numbers,
Alibaba's option to include product specifications in the title, which facilitates product search,
Amazon's 1-Click Payment,
Allegro's Pay Later, which allows customers to pay for their order up to 30 days after purchase, while the sellers receive payment immediately.
Why sell on marketplaces?
Some advantages of selling on marketplaces are mentioned at the beginning of this article. What is crucial is that they can constitute an additional sales channel. Moreover, they allow sellers to reach a wide range of potential customers who already trust the marketplace, they facilitate sales through various features, and make international expansion easy.
There are also other benefits, which are usually marketplace-specific. For example, Allegro not only continues to grow its marketplace, but it also supports sellers by covering fees charged by the PayU payment service provider or working with InPost to offer very attractive shipping prices, among others.
The benefits of presence on Allegro or using InPost's services are corroborated by Gemius's E-Commerce in Poland 2019 report. It shows that InPost's parcel lockers are the shipping method of choice for as many as 52% of online buyers. Plus, they encourage as many as 61% of respondents to buy online. Meanwhile, Allegro itself is the most widely recognised e-commerce site in Poland as 80% of respondents pointed to it when asked to spontaneously identify brands related to online shopping.
Spontaneous awareness of e-commerce sites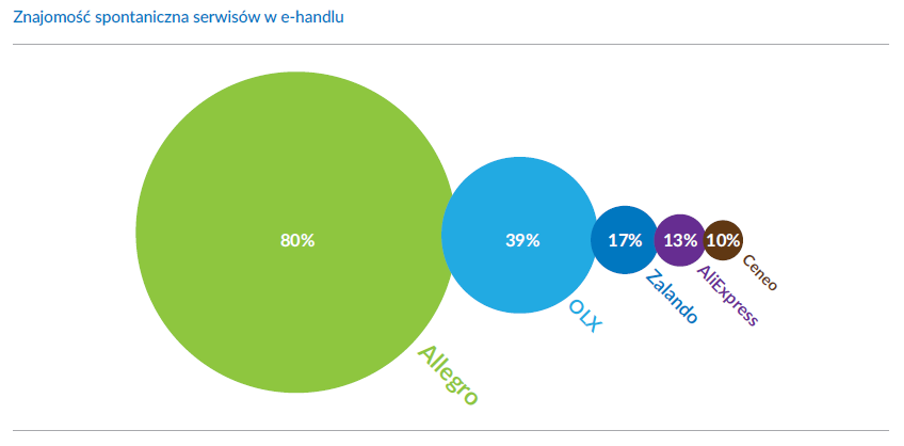 source: Gemius's E-Commerce in Poland 2019 report
One additional benefit of marketplace presence is the lack of need for a marketing budget or vast knowledge in this area. Both sales analysis and cost control are also much simpler. Sellers have access to intuitive analytical tools, reports, and summaries. For example, eBay recently acquired a start-up called Terapeak, which facilitates sales by analysing data on eBay supply, demand, trends, and prices.
In Poland, established retailers also noticed the potential of marketplaces, building recognisable brands in the Polish e-commerce market. Instead of launching sales on available marketplaces, Empik, Emag (formerly Agito), Carrefour or Zalando took a different approach to this sales model. They allowed other online shops to sell on their sites, thus gaining an additional source of revenue, expanding their offering, and growing their target group.
Things to remember when selling on marketplaces
Like with everything else, selling via marketplaces also has its downsides and certain risks. The problems faced by novice sellers include big competition and fighting for customers through low prices and promotional offers. In addition, it is much more difficult to build your own brand and standing out from the crowd is sometimes impossible. Profile customisation is limited and redirecting traffic to your own online shop is prohibited.
Therefore, the sales strategy must be well-planned and make use of all the benefits of both the marketplace and your own online shop. Apart from striving to minimise potential risks, you should also take full advantage of various sales channels, test new solutions, and be open to change.
Among the factors encouraging as many as 60% of Polish Internet users to shop online is the wider choice of products available at online shops compared to physical shops. Other European countries experience a similar situation. This clearly proves that marketplaces are an additional sales channel worth choosing.
What is more, the easiest method of reaching international customers is via the world's largest marketplaces, which in 2018 alone sold products for 1.66 trillion dollars. This is an opportunity worth seizing, particularly because of its low entry threshold and the option to change sales strategy at any time.