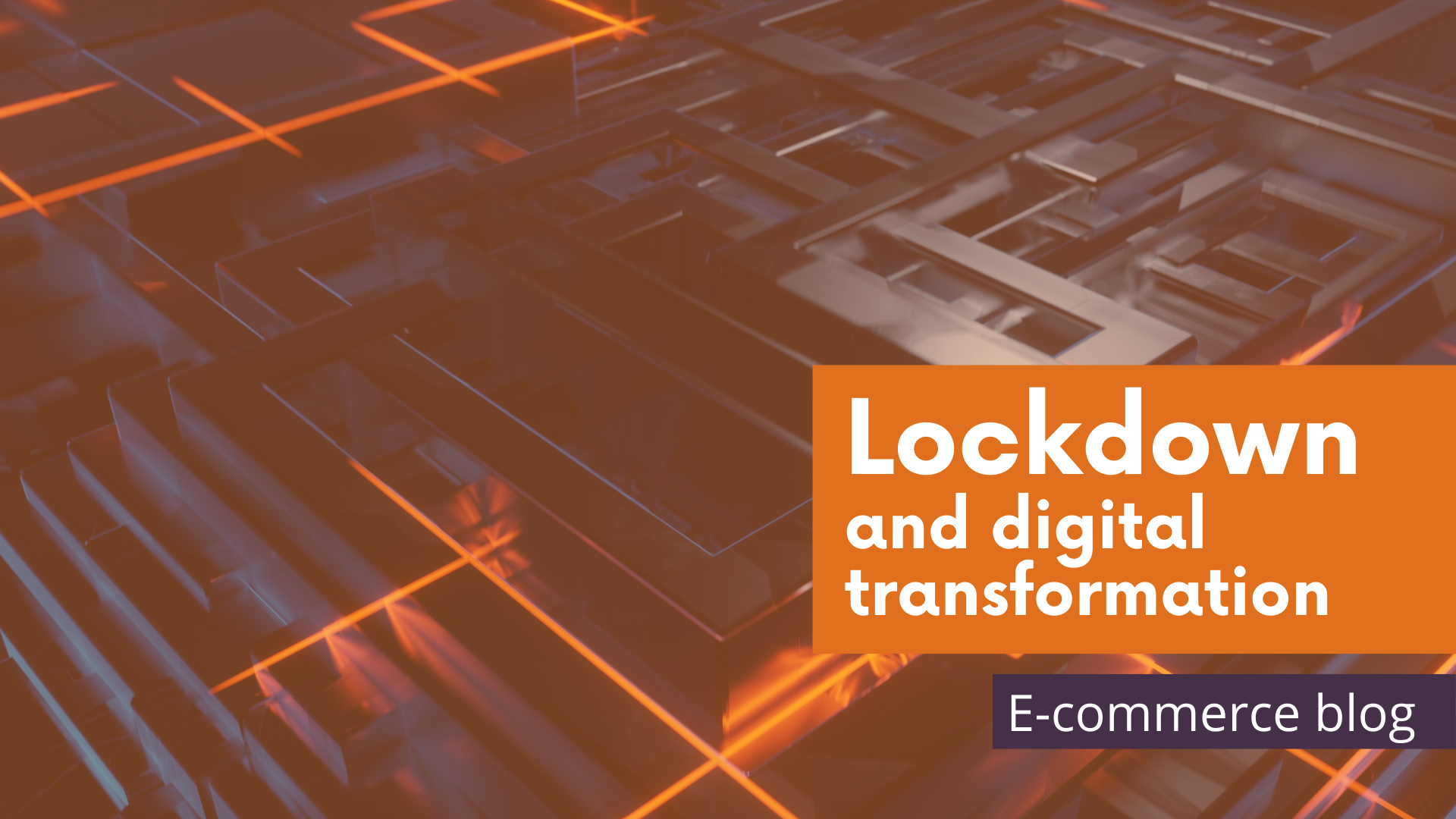 Lockdown and digital transformation
The lockdown resulting from the COVID-19 pandemic affected the operations of many industries, including e-commerce. What was the business situation for companies during the unfreezing of the economy and what does it look like now, two and a half years since the pandemic erupted? What impact has the accelerated digitalisation of previously offline companies had on business?
We no longer need to rely on predictions; the last few years have provided a lot of hard data. We can see which industries and shops have emerged from the crisis unscathed, which have benefited from it and which have lost out. And the ones that have benefited are mainly those that decided to use the time of the pandemic to go online and at least partially transform their business.
Today, for many industries and businesses, the vision of another lockdown is no longer as frightening as it was at the beginning of 2020. We have learned to exist in an unpredictable environment and to change our operating model depending on the situation. Obviously, there are still areas where digitalisation is very difficult or even impossible, hence the development of technology and the implementation of new solutions is not slowing down.
How has COVID-19 affected sales?
E-commerce has been growing in strength for years. Every year, more and more people appreciate the convenience and time savings of online shopping, making them more likely to choose online shops over their stationary counterparts.
According to Sense360, almost 41% of US household owners have used grocery delivery in isolation for the very first time, and as many as 37% said they would continue to use this type of convenience (home delivery or pick-up of products purchased online).
Software Advice, on the other hand, found from its analyses that what would normally take years now happens in a matter of months or even 24 hours (an example may be Editorialboutique.com, launched in 24 hours). Most businesses are increasing their presence in the digital reality and are taking advantage of it more and more dynamically. Out of the almost 200 stationary shops in the US analysed, as many as ¼ of them have launched online sales as a result of COVID-19.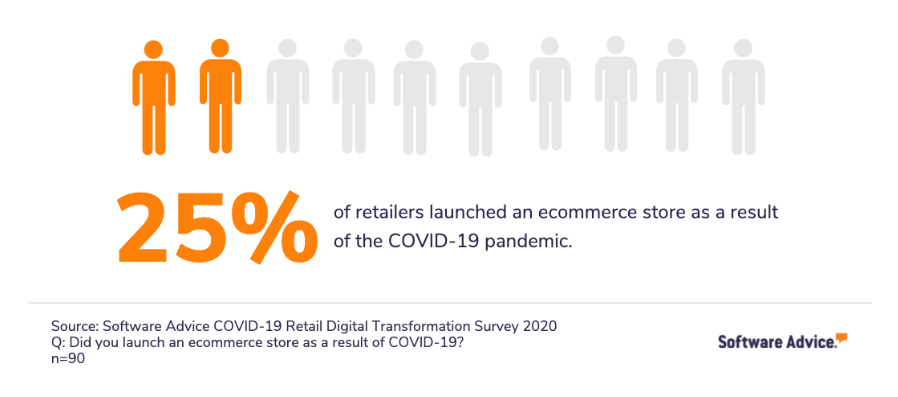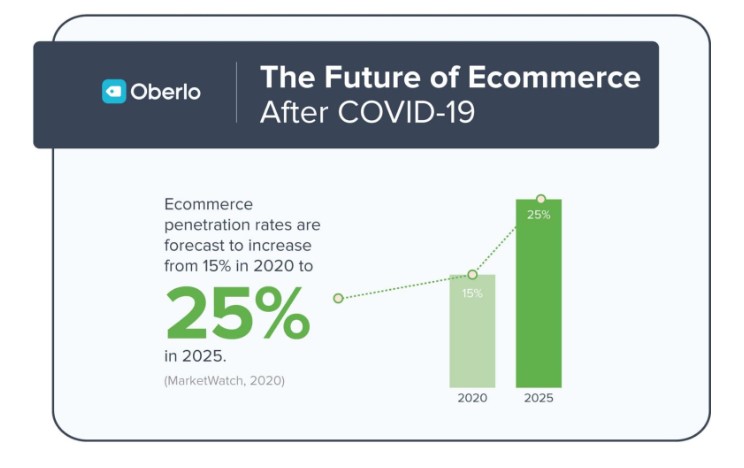 The e-commerce market penetration rate is predicted to increase to 25% by 2025 (MarketWatch, 2020). This will, unfortunately, come at the expense of traditional retail – up to 100,000 shops may close in the next five years. The textile and consumer electronics sectors will suffer the most.
Of course, the end of the lockdown, the possibility to leave home and the opening of shopping centres has slowed down the growth of online shopping in 2021 compared to the previous year. According to the data of the Department of Commerce, Q2 and Q3 2021 saw small increases in e-commerce (9.2% and 6.8%) compared to the 30-40% growths noted in the previous four quarters. However, comparing Q3 2021 to Q3 of the pre-pandemic 2019, we can see an increase of up to 45.6%! Online sales are down, but still higher than the pre-pandemic levels.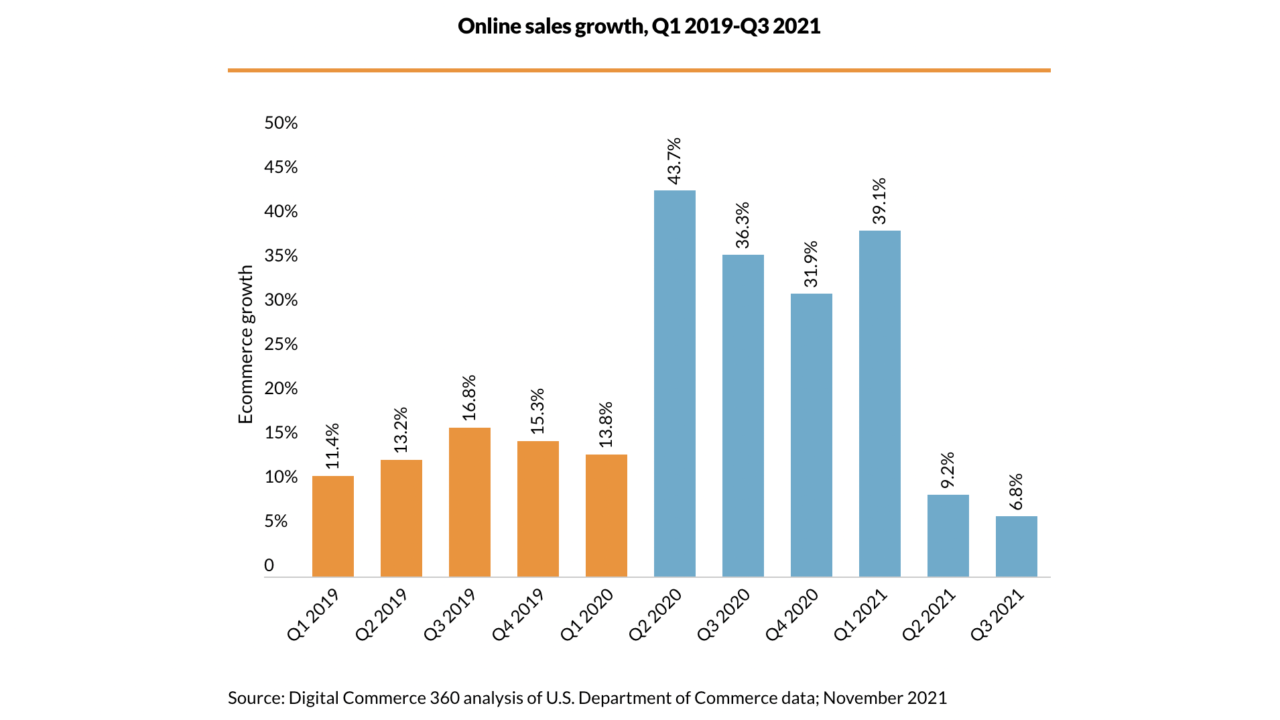 As infections are again on the rise in many countries around the world, online sales are expected to increase during the 2022 Christmas period.
The pandemic has also accelerated the development of q-commerce (quick-commerce), i.e. the delivery of products from nearby warehouses or shops, which, thanks to the short distance from the customer, makes delivery possible in as little as 20 minutes. The popularity of the new generation of e-commerce is not only due to the satisfaction of customers with better and faster service, but also to the change of priorities during the pandemic: supporting SMEs, taking care of the environment and implementing sustainable business practices.
What are the advantages of entering the online world?
Starting online sales involves more than just protecting your business from situations similar to the COVID-19 pandemic, when we were locked in our homes and the offline world came to a standstill.
There are many more benefits associated with digital business transformation, and these include:
diversification of channels for reaching customers,
diversification of revenue sources,
low e-commerce entry threshold – no need for large budgets or technical skills,
shorter customer purchase path initiated by online advertising,
simpler measurement of conversions and more opportunities for sales analysis,
easier cross-border sales.
Of course, not every benefit may actually apply to you. For example, if you have a highly developed company with an extensive or specific product range, and your requirements for shop functionality are greater, then implementing an e-commerce platform may involve more expense and the need to outsource it to a professional agency. However, there is no denying that it is a long-term investment that will pay off in the following years.
Digital transformation of commerce – where to start?
The digitalisation of business as a result of the coronavirus pandemic is not just about communicating and using instant messaging. It has a much broader context including database management, or the search for solutions that enable remote control of production processes and machines.
Digitalisation also includes sales and customer contact. However, our observations show that many companies that have hitherto only operated through stationary outlets still have many objections to entering the online world.
They are most often afraid of the high costs of opening an online shop and the changes in the company's operating procedures. Fear of technology, as well as the lack of familiarity with systems such as CMS, CRM or payment applications, can often be an additional factor hindering the decision to make a digital transformation.
It is worth mentioning that starting to sell online does not necessarily have to involve an immediate and full digitalisation of the company. It can be done step by step starting with a simple and, over time, improved e-shop and extended communication in online channels. Only after some time should you begin to modify internal procedures and integrate individual areas of company operations and customer communication.
So how to start to operate and sell on the Internet?
Several stages of the process of entering the world of e-commerce can be distinguished:
Determining financial needs and capabilities.
Choosing an online sales platform.
Choosing payment and delivery methods.
Determining responsibility for individual processes.
Planning promotional and marketing processes.
Determining financial needs and capabilities.
Without this step, you will not be able to carry out the following ones. By needs, we mean the specifics of the product you sell and the associated requirements for shop functionality, packing and delivery to the customer. All of this entails different costs, which you should analyse and choose the best solutions.
Choosing an e-commerce platform.
Online sales systems, or e-commerce platforms, can be divided into 3 main groups:
Ready-made SaaS solutions, which you pay for as part of a selected subscription. They allow you to quickly enter the world of e-commerce and do not require programming skills or large budgets. By choosing this type of solution, you do not have to worry about issues such as the server, solving technical problems yourself, designing the appearance of the website and, in many cases, the shop regulations and other legal issues.
Ready-made e-commerce platforms such as Shoplo, Shoper or Shopify, also have numerous plug-ins and add-ons that allow integration with external systems and tools, such as warehouse and accounting programmes, logistics companies, marketing tools.
We recommend them if you need to start selling quickly or have a small start-up budget. Their main disadvantage, however, is the significantly limited possibilities to expand the shop, implement specific and customised functionalities and shop design.
Open-Source systems are a great solution when selling products that require specific functionalities or when you want to expand the shop over time. They have the so-called open code, which allows the shop to be adapted to individual needs. Their disadvantage is the necessity to have your own server and technical knowledge, and to carry out updates or install additions yourself. However, it is worth noting that having your own server also has one big advantage – you do not share it with other shops as is the case with SaaS solutions.
Another advantage is the existence of a number of e-commerce agencies worldwide that provide full support in operating and developing a shop on open-source platforms.
Examples of such platforms include Magento, Shopware or PrestaShop. We primarily recommend these for medium and large online shops with a large number of products and a budget for software support.
Dedicated platforms, i.e. customised solutions, 100% tailored to one's needs and self-managed. These platforms require a lot of money and time to implement. Again, you need to have your own server, and in addition you do not have access to ready-to-use integrations with external systems, which lengthens the implementation time, and you need to have continuous technical support – in case of problems or the wish to make changes.
We recommend such platforms to large players, preferably with their own development team and a planned strategy for shop development, as changing the approach during or after building a shop on a dedicated platform can prove very costly.
So which solution is worth opting for? To answer this question, you need to analyse a number of aspects, determine the needs and objectives of your business, product or service. It is worth consulting a specialist, e.g. an e-commerce agency that has experience in implementing online shops on various platforms. This will help you avoid bad choices and a failed investment.
Choosing payment and delivery methods.
It is another very important step from a point of view of conversion. Why? You have probably heard about the problem of abandoned shopping carts in e-commerce. According to the Baymard Institute, it is estimated that up to 69.57% of online purchases are not completed precisely because the transaction is interrupted at the last steps.
These last steps include, among other things, payment methods and delivery methods. You need to keep in mind that customers want to have a choice and that not everyone trusts the security of online payments yet. Allow them, for example, to pay by cash on delivery. When it comes to delivery, consider offering its various forms (e.g. by courier, delivery to a collection point or a parcel locker) and different courier companies.
It is worth knowing that the return rate of customers is greatly influenced by the delivery time. At present, waiting several days for a delivery is far too long.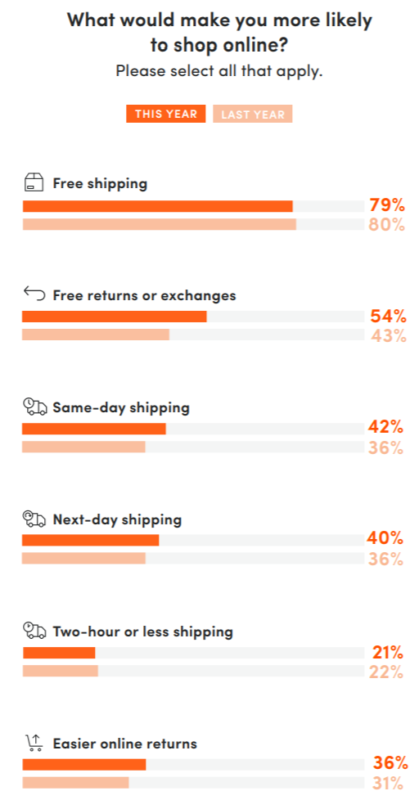 Photo: 'The Future of Retail 2018' Walker Sands Report – comparison of 2018 and 2019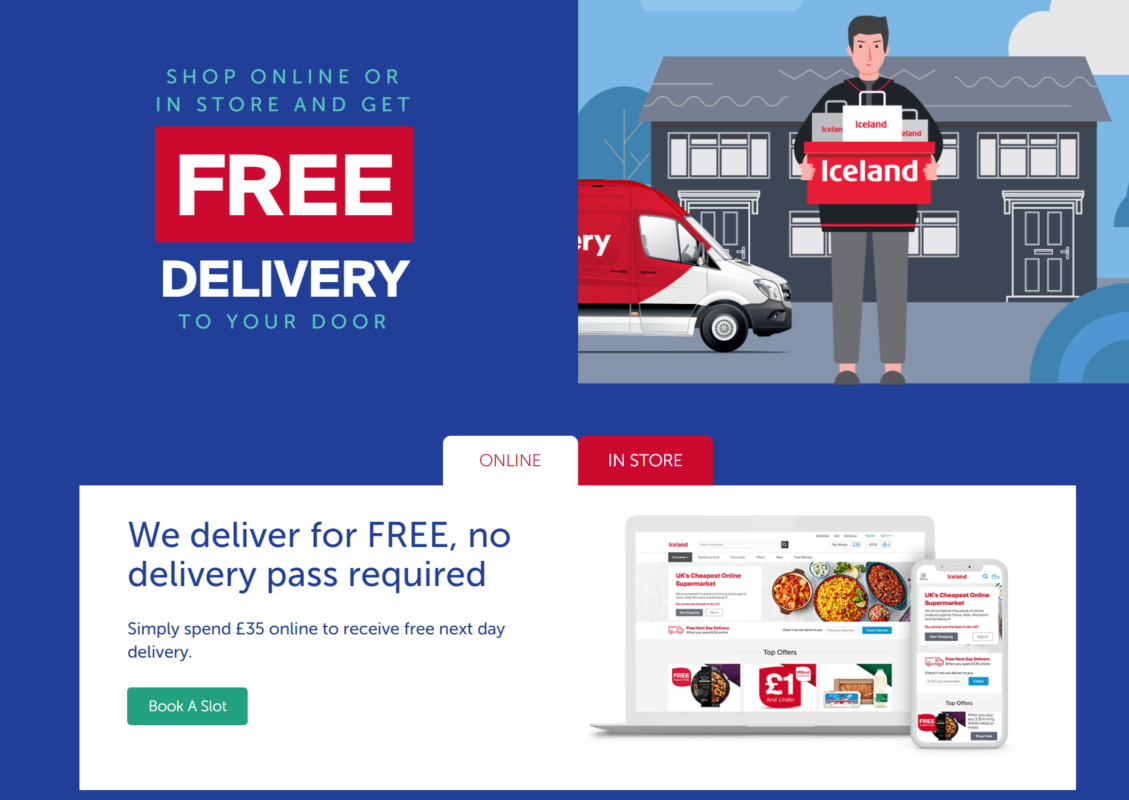 Free delivery above a specific order value threshold at iceland.co.uk
Legal issues in online sales.
Online sales are governed by laws different than stationary sales, especially as with e-commerce you collect and process customers' personal data. When you open an online shop, you need to take care of the terms and conditions, privacy policy, as well as familiarise yourself with and comply with consumer rights. We advise against copying terms and conditions from other shops' websites – after all, you cannot be sure that they have been prepared correctly.
Reaching out to customers and promoting your shop.
A final yet equally important element of online sales is the promotion of your shop. It is particularly important if your brand is not yet large and recognisable. There are many ways to promote and the choice of communication channels in fact depends on your target audience – do they spend more time on Facebook, Instagram or perhaps avoid social media? Will email marketing be a good solution or is it better to invest in search engine promotion and price comparison sites?
It is worth observing your competitors' activities, using internet monitoring such as Brand24, and looking at the advertising and communication language of other companies in your industry. Above all, check and test what works and what does not, where to invest a larger budget and where to try a different form of communication.
How else can you improve your business' entry into the digital world?
Whether you are targeting individual or business customers, there are many solutions to streamline the various processes involved in the functioning of the digital part of your business.
Consider which of these – entire processes or their components – you can easily optimise while reducing costs and freeing up staff time resources. This could include pulling product data directly from suppliers, automated post-trade communication or implementing a simple chatbot to handle basic queries. In addition, you can outsource certain tasks – such as logistical issues or marketing.
By implementing modern tools you will not only take some of the responsibilities off your shoulders, but also satisfy customers' expectations, for example by improving the speed of communication.
It is also important to ensure the security of your purchases to protect customer data. Taking care of cyber security will protect you from problems concerning hacking attacks, theft of personal data and, consequently, paying fines for poorly secured databases and the entire IT infrastructure. In addition, customers who have reservations about online transactions will trust you more easily if you show them that you care about their security.
Also consider allowing your employees to work remotely, at least in part. During the COVID-19 restrictions, many companies were forced to test the 'home office' model. If this has worked well and your employees are enthusiastic about it – take advantage of it! According to IBM, as many as 54% of employees want to be able to work remotely even after the pandemic restrictions are lifted. They see many benefits and are more satisfied with their work. You will also gain through reduced costs for office space and utility charges, as well as increased employee productivity – a happy employee is more efficient.
The GetResponse company, for example, has decided to switch to a remote business operation model. They have proven that even large companies can switch to home office mode without losing efficiency. Obviously, this involves a great deal of trust with employees and the redevelopment of processes such as internal communication.
In summary, COVID-19, although it caused a huge amount of damage worldwide, for some companies it provided the impetus to grow, to initiate a digital transformation that had been postponed for years, to dynamically grow the business and to launch and develop online channels.
Just like during the earlier SARS outbreak in 2002-2004, e-commerce has now benefited a lot from this, both in terms of the increase in the number of online shops and of the consumers who buy from them.
None of us knows what the future will bring, but it is worth learning from experience and drawing the right lessons from recent events, and these have shown the importance of having several sales channels.